Dr. DiResta and Public Health Initiatives
In Photo: Speakers at the MFAS Public Health Symposium Drs. Shih, DiResta, Tower, Bruce and Wrobel
APMA/TDI Public Health Fellowship
Resident Doctors of Podiatric Medicine presently serving their PGY-2 and PGY-3 who have an interest in public health policy and practice are encouraged to explore The APMA/TDI Public Health Fellowship program, a postdoctoral public health fellowship, at The Dartmouth Institute (TDI) of Dartmouth College.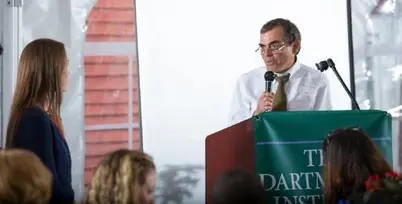 The fellowship curriculum is designed to provide the fellow with the fundamental skills, knowledge base, and philosophical foundation in health policy and clinical practice, with specific attention paid to public health, clinical/health services research, and health-care leadership. The fellowship provides the postdoctoral fellow with the unique opportunity to pursue internship, capstone and research projects within the TDI curriculum in podiatric public health. Upon completion of the 12-month program, the fellow receives an MPH degree from Geisel Medical School. TDI's MPH program is a unique program that exposes students to the evidence behind current public health research and practices and trains students to use that evidence to conduct research, implement public health programs, and evaluate such programs. MPH students also gain skills using the methods and models of quality improvement to initiate change, translate research outcomes into action, improve care and access to care, and ultimately improve public health. Students gain knowledge and skills through the classroom experience and through multiple opportunities in the field. This unique training program provides a host of career opportunities that may not otherwise be readily available to new podiatric physicians.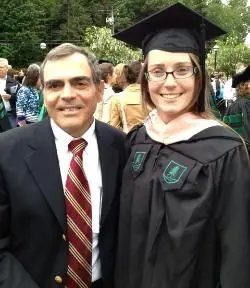 In Photos: (top) Dr. DiResta presents APMA award of excellence to Dr. Tower at TDI Class Day. (left) Our inaugural fellowship graduate, Dr. Dyane Tower, who presently leads APMA in Washington, DC as Senior Medical Director and Director of Clinical Affairs. (right) Drs. Fisher, Tower and DiResta.
Chair of the MFAS Community Service Foundation
The MFAS Community Service Foundation has been instrumental in several public health and community health promotion activities over the past several years. One initiative was bringing PPOD members in the professions of pharmacy, podiatry, vision services and dentistry to come together in a quality improvement project aimed to improve the health of patients with diabetes titled the Massachusetts Diabetes Education Program Coalition. The MDEP program provided lectures and small group discussions for health care providers at the Yankee Dental Congress and at the APMA Region One Meetings. The Foundation was also involved in a joint project with TDI fellow Dr Rebecca Sundling in providing lectures on public health topics for attending podiatric physicians as well as a research project and opioid training sessions for podiatry hospital residents with best practices and her pre and post surveys conducted were used in her publication manuscript published in the JAPMA. The CSF in past years conducted an extensive media program for local TV and radio with the aid of an unrestricted grant from Novo Nordisk aimed at outreach to diabetic patients in underserved populations in the commonwealth. CSF has also sponsored internships with MPH candidates at the Harvard School of Public Health and the Boston University School of Public Health researching the use of a patient passport that can provide opportunity to improve upon coordination of health care services for diabetic patients by PPOD providers along with their primary care providers in the setting of the local community health center. A previous MFAS sponsored research program titled the Amputation Prevention Initiative in coordination with Drs Emily and Jeremy Cook at the Harvard School of Public Health MPH quality improvement course led to study publication manuscript in the JAPMA.